Massage is a preventative and restorative treatment for your wellbeing. Some of the benefits of massage may include:
Balancing the nervous system
General relaxation
Improving circulation
Improving self esteem
Increasing energy
Increasing flexibility
Increasing muscle tone
Re-aligning posture
Reducing injury recovery time
Reducing muscular pain
Reducing stress
Removing toxins

Sports Massage
A deeper and firmer style of massage to treat muscular aches and pains.
Trigger Point Therapy
When firm pressure is applied to locate specific areas which are causing pain and restricting movement.
Therapeutic Massage
A relaxation massage to relieve physical and emotional stress. It may alleviate tension and improve circulation.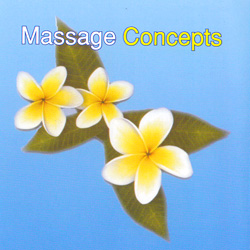 Arrival
Please understand that if you arrive late, your treatment time may be reduced accordingly to avoid inconveniencing following clients.
We will however, require that you pay in full.
Dress
For your comfort and privacy, underwear must be worn at all times.
Gift Vouchers Available
Health Rebates Available
Bookings
Bookings are essential for all treatments. Remember to book your appointment before you leave to ensure availability and avoid disappointment.
Cancellations
Cancellations and/or rescheduling of appointments require 24 hours notice.
Cancellations or rescheduling with less than 24 hours notice may incur a cancellation fee.
Here at Massage Concepts we aim to provide a welcoming, relaxed and caring atmosphere where each massage experience is tailor made to suit client's individual health requirements. Every person requires a massage specific to their needs in order to help achieve desired outcomes and provide an overall sense of wellbeing.
Massage Concepts can provide a variety of massage styles including Sports, Remedial and Therapeutic Massage. Give your health a boost with regular massage and notice the difference to your life…